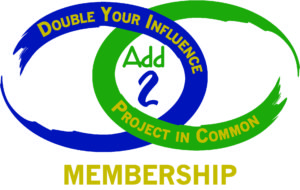 Double Your Influence…Add To/2
NVON Project in Common
2019 – 2021
As you may know, volunteering in the U.S. is at a 10-year low.  While many organizations are rethinking their volunteer recruitment efforts, that alone can't change the low volunteering rate.
Nonprofits need to start taking volunteer retention seriously.  There are only so many people out there looking to volunteer.  If we can't keep them coming back to our organizations, we'll be out of luck.
#1 – Keep volunteer retention in mind from the start.
As my parents used to tell me, you never get a second chance at a first impression.
Many organizations start their relationship off on the wrong foot – by talking too much about themselves, either during an orientation or by diving right into hands-on work.
Instead, get to know your volunteers and their motivation for getting involved.  Here are some questions you can ask:
How did you hear about us?
What motivated you to get involved?
What type of projects are you interested in?
How do you prefer to be contacted?
What resources do you need from us?
#2 – Track your organization's volunteering data.
Do you already know your volunteer retention rate?  What about where your volunteers heard about your organization? Or how many volunteers opened your last email?
Tracking volunteer data will help you segment volunteers and communicate with them effectively.  You should also store data like volunteering hours and communication stats, so you can identify your most engaged and least engaged volunteers.
#3 – Provide volunteers with the resources they need.
Even though volunteers are signing up to help your organization, there may be some resources or benefits that they need from you in return.  Understand your volunteers' interests, so you can provide them with what they need.
Here are some examples of volunteer resources that you can provide:
Gaining new skills or job experience.
Making new connections and networking
College recommendation letters or job references.
Fulfillment of volunteer hours for school or work.
If you understand a volunteer's needs, you can offer them something in return that makes their experience more valuable – and keeps them coming back.
#4 – Leverage volunteer skills and strengths.
Another benefit to getting to know your volunteers is uncovering their hidden talents.  For example one of your volunteers may be a talented web designer – but if they only help at your events, your organization may be missing out on a huge opportunity.
In a Fidelity Charitable Gift Fund survey, 44% of respondents said they would rather volunteer elsewhere instead of staying with an organization that doesn't use their skills.
So, make sure you put those valuable skills to work!  And don't be afraid to have volunteers team up.
#5 -Follow-up and stay in touch.
This is just the beginning of your volunteer management strategy.  Here's how you should follow-up with volunteers:
THANK THEM – your volunteers are donating their time and skills to your organization.  Make sure they know they're appreciated!
ILLUSTRATE THEIR IMPACT – provide volunteers with data or stories that show the difference they've made.
(Example – if they helped with an event, let them know how much that event raised and how that money will be used.)
PROMOTE FUTURE VOLUNTEER OPPORTUNITIES –  while you're telling volunteers how awesome they are, be sure to include any upcoming volunteer opportunities.  Hearing about their impact may inspire them to sign up again!
GET TO KNOW MORE ABOUT THEM – if you couldn't talk about their interests before a project, this may be a great time to get to know more about your volunteers.  Consider sending a survey, or set up a quick phone call or meeting.
Volunteer retention and volunteer management should be about building a relationship with your volunteers.  Communication is key!
#6 – Ask your volunteers to donate.
These people chose to volunteer because they don't want to support your organization financially.  If you think about it, a financial donation only takes a donor a few minutes.  But donating your time and skills to an organization can be a much larger commitment.
But you should never ask volunteers to donate right after they've volunteered.
#7 – Thank, thank, and thank again.
The most important thing you can do to improve your volunteer retention rate?  Say "Thank You".  And then say it again and again.
Check out these resources for inspiration on thanking your volunteers:
Words to Thank Volunteers (http://charity.lovetoknow.com/Words_to_Thank_Volunteers)
Fresh and Creative Ways to Thank Your Volunteers (https://www.thebalance.com/creative-ways-to-thank-volunteers-2502573)
And remember: the average hour of volunteer work is worth about $23.  If you think about volunteering as an in-kind donation, your volunteers may be giving your organization more than some donors.  Be sure to thank them appropriately!
Source – "A Volunteer Leadership Program designed to provide you with the skills and tools needed to recruit, retain, and manage volunteers" – Internet
Double Your Influence…Add To/2  Brochure
8 Spokes On The Wheel Of Relevance
NVON Wheel Membership
2019 Report
2020 Report