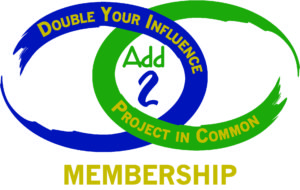 Double Your Influence…Add To/2
NVON Project in Common
2019 – 2021
The 2019-2021 Project in Common, Double Your Influence…Add To/2's objective was to maintain and increase membership.
Volunteering in the U.S. is at a 10-year low.  While many organizations are rethinking their volunteer recruitment efforts, that alone can't change the low volunteering rate.
Nonprofits need to start taking volunteer retention seriously.  There are only so many people out there looking to volunteer.  If we can't keep them coming back to our organizations, we'll be out of luck.
Double Your Influence…Add To/2 accourages each member state to:
#1 Keep volunteer retention in mind from the start.
#2 Track your organization's volunteering data.
#3 Provide volunteers with the resources they need.
#4 Leverage volunteer skills and strengths.
#5 Follow-up and stay in touch.
#6 Ask your volunteers to donate.
#7 Thank, thank, and thank again.
Double Your Influence…Add To/2  Brochure
8 Spokes On The Wheel Of Relevance
NVON Wheel Membership
2019 Report
2020 Report
2021 Report