22nd ANNUAL NVON CONFERENCE
Be the Sunshine-Make a Difference
July 20-22, 2021
Owensboro Convention Center
Hampton Inn and Holiday Inn
Owensboro, Kentucky

Conference Registration – Late Fee (postmarked after June 16)
Lodging –Both hotels are located adjacent to the convention center.
     Hampton Inn Reservations must be received before 6/22/2021.
     Holiday Inn Reservations must be received before 6/28/2021.
Conference Agenda
Speakers
Tours
Craft Workshops
Seminars
You didn't miss the "Working Together for 25 Years, 1995-2020" Presentation.
Look for it at NVON 2021.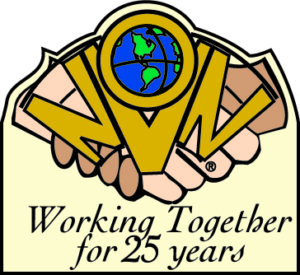 Don't forget to purchase your Commemorative
25 Year Anniversary Pin
$3.50 Early Bird Price (purchased by July 1, 2021)
$4 at NVON Conference
Limited Edition
Early bird purchased commemorative pins will be delivered at NVON
July 20-22, 2021
25 Year Anniversary Pin Order Form
Come and help us celebrate our 25th Anniversary…our Silver Jubilee!