22nd ANNUAL NVON CONFERENCE
Making a Difference, "Working Together for 25 Years, 1995-2020″
An Important Conference Update from our President
You didn't miss the "Working Together for 25 Years, 1995-2020" Presentation. We will be having a short 2020 Annual Meeting at the CWC Conference in Indianapolis, Indiana at the Crown Plaza, Indianapolis-Airport, September 14-16, 2020.
Buckle your seat belts for a whirlwind tour as we share highlights of the past 21 conferences, interviews of past NVON Presidents, snippets from the 9 NVON projects in common, and a brief history of NVON since it's inception, October 1, 1995, until this Silver Jubilee Celebration.  Don't miss this special presentation and see What a Difference we have made, "Working Together for 25 Years, 1995-2020".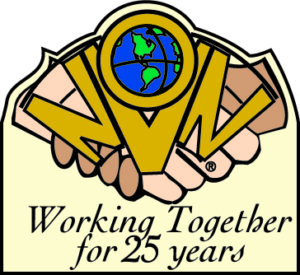 Don't forget to purchase your Commemorative
25 Year Anniversary Pin
$3.50 Early Bird Price (purchased by September 1)
$4 at CWC Meeting
Limited Edition
Early bird purchased commemorative pins will be delivered at CWC
September 14 – 16, 2020
25 Year Anniversary Pin Order Form
Come and help us celebrate our 25th Anniversary…our Silver Jubilee!